Exploratory variation and sonic experimentation create a rich series of musical worlds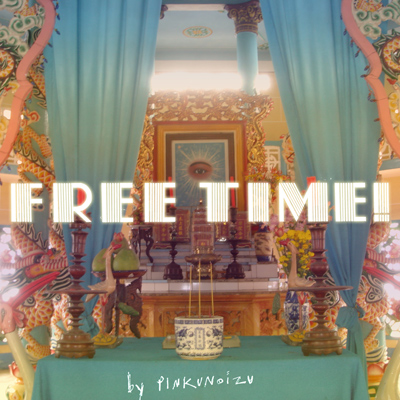 2011's
PEEP EP
(review
here
) was a first taste of
Pinkunoizu
's musical subconscious. Now the European experimentalists have followed up with a full length debut album,
Free Time!
Where
PEEP EP
followed a twisted dream logic path,
Free Time!
drifts through clouds of experimental loops, dream pop, rhythmic ambience, and indie rock. Pinkunoizu's musical soul is dedicated to an exploratory variation, so these songs bounce around quite a bit. But they maintain a trippy, noise pop coherence.
Two tracks from
PEEP EP
turn up again,
Time Is Like a Melody
and
Everything is Broken or Stolen
. The meandering synth sounds of the latter are a welcome taste of Pink Floyd's
More
cast against hypnotic poly rhythms.
But the new tracks offer their own intrigue.
Myriad Pyramid
toys with creaky ambient sounds before settling into a groove like Radiohead covering Bowie's
The Man Who Sold the World
.
Death is Not a Lover
mutates from a soft, moody beginning to juxtapose folky Americana against a trippy background chaos. Then it collapses into a staccato chant before evolving into jangling new wave groove. Each track plays like a grab-bag of disparate parts that somehow always form a greater whole.
The peak is
The Abyss
. The percussive start is dark and trippy, but was sharp chops of guitar are looped in, the vibe resolves into something more dream poppy. The bass line and climbing fill guitar hint at Pink Floyd's
Sisyphus
. The layered parts play like loops, full of details that rise and fall in the mix as the song unfolds. As the song drifts forward, each twist and turn seems unplanned but inevitable. The groove builds intensity and supports some Jerry Garcia style guitar noodling. At every moment the music makes perfect sense, but it's not a linear development of ideas.
This is Pinkunoizu's blueprint for
Free Time!
Musical moments blend into one another in a collection of happy accidents. Detailed loops indicate planned out production, but the tracks evolve and flow like improvisation.
Further listening
The first single,
Parabolic Delusions

,
is both the most accessible and least interesting track on
Free Time!
It's lyrically quirky, but the cheery pop shows less complexity than te rest of the album.