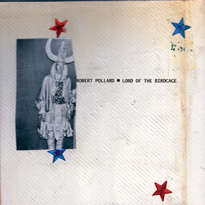 If anyone could challenge Prince for the title of Mr. Prolific, it would have to be
Robert Pollard
. Guided By Voices, a steady procession of solo albums, and numerous side projects like Boston Spaceships all contribute to a huge back catalog of music to delve through. Fortunately, Pollard is fairly consistent in the quality of his output, so new releases are worth the risk.
Lord of the Birdcage
is a slight departure from form (but not quality), as Pollard has based this set of songs on various poems he's written. This gives the album a stronger lyrical foundation and pushes the song structure away from verse-chorus structure into a sectional approach.
The music, though, remains familiar to his GbV fans: a mix of prog and psychedelic tinged indie rock, post punk edge, and experimental assemblies. The blur of genres is a smokescreen. Pollard's true style is outsider pop music. He has an intuitive understanding of the structure of pop music, but there's an underlying disconnect. Like Syd Barrett, but sturdier and more musically talented. Or a more focused Robyn Hitchcock.
As long as I'm drawing comparisons,
Lord of the Birdcage
features a strong solo Pete Townshend vibe, captured by Pollard's voice and the Who influenced musical elements. Stir in a little early period David Bowie, a touch of Kraut rock, and Psychedelic Furs' post punk sound to complete the picture.
There are plenty of good songs to choose from, but the repetitive drive of
Aspersion
has great energy. The main groove reminds me of
Do The Collapse
, with prog rock scope and the jangling clash of guitars. The song is split by reflective discordant sections. The lyrics are intriguing:
On a day of No Saints


On No Thanks Day
Yours for the taking
No, I'm not faking
Selective phrasing has a new face
It's you

Holy Fire
also starts out with a great lyrical tag: "
Please believe it. There will be holy fire.
" But the lyric is not so much a threat as a sought after promise. The progressive/Kraut rock feel is meditative and a bit ambient.
The only song available right now is
In A Circle
(on
Pitchfork
), a pretty indie folk with a hint of paisley around the edges. It's a slower, thoughtful moment. Even though it builds beyond the initial acoustic start, it remains a casual musical stroll in an optimistic reverie.
Pollard bounces around on
Lord of the Birdcage
: Post punk on
Dunce Codex
, lo-fi indie rock on
Garden Smarm
, psychedelic on
The Focus (Burning)
... Throughout the album, Pollard's unique voice and the guitar work remain consistent and interesting.
Lord of the Birdcage
is officially releasing on June 7.